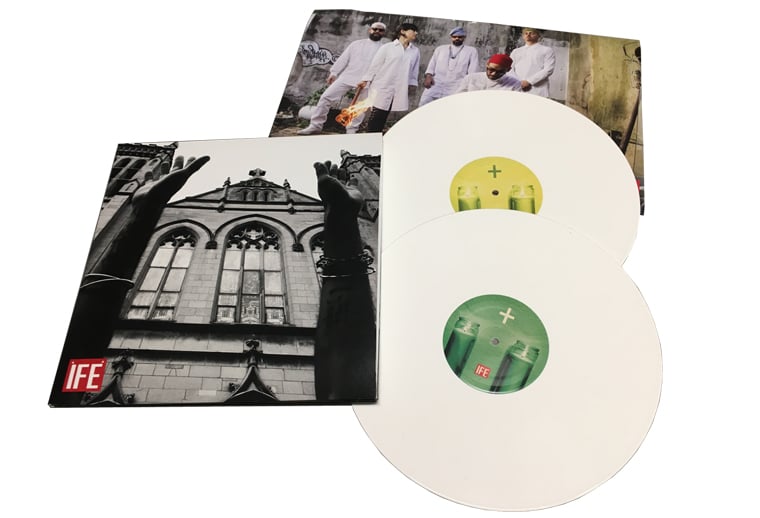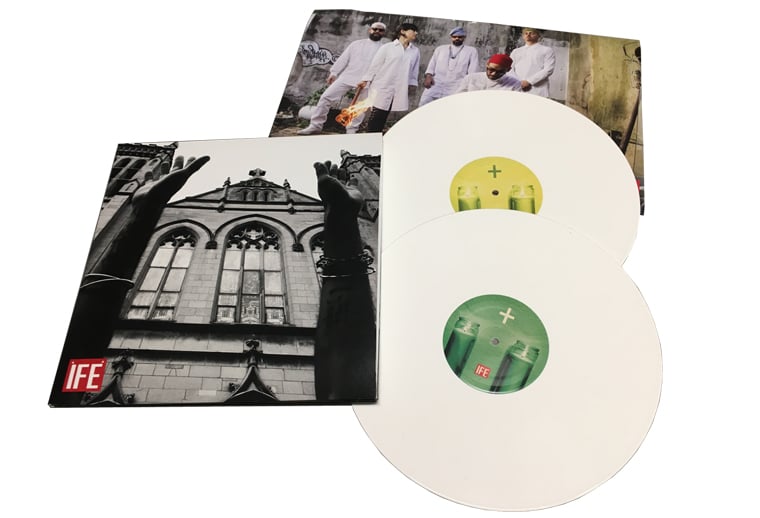 ÌFÉ IIII+IIII Double LP on Limited Edition White Vinyl + Digital Download
$25.00 / Coming Soon
Discos Ifá / Limited Edition IIII+IIII 2XLP / 500 copies on white vinyl
FINALLY!!! This is a newly released vinyl version of ÌFÉ's critically acclaimed debut album IIII+IIII. Pressed by our in house record label Discos Ifá, this 2XLP contains the entire IIII+IIII album on 2 seperate white vinyl records in a full color gatefold jacket with expanded album artwork. The pressing includes 3 previously unreleased remixes, an 11 x 17 poster autographed by ÌFÉ's Otura Mun, and a free digital download of the original album. Looks and feels stunning, sounds amaaaaaazing. In short, you're gonna flip out when it shows up on your doorstep. Limited to 500 copies, this pressing is going to sell out fast. Get yours now!! Shipping Worldwide!!!
From its opening track to its closing prayer the album conveys a deep sense of spiritual intent, a sureness in its voice and purpose that is both brave and bold while maintaining the vulnerability that the most intimate and honest of conversations always require.
It's been clear from the beginning that ÌFÉ is in a space uniquely its own. From the way in which the music is conceived, a live electronic performance, no programming, to its component parts, Cuban Rumba, Sacred Yoruba praise songs, Jamaican Dancehall, and American R&B, to the way it moves seamlessly from English to Spanish to Yoruba, the music is willfully out of genre, yet focused and clear in a way that makes its newness seem rare, compelling.
Serene and floating at times, determined, erotic, and raw at others, the music is as improbable as it is natural, a youthful knowing sound, aware of the weight of its voice, the ground that's been traveled, and the urgency and uncompromising fierceness needed to meet the day.
Tracklist...
Side A
PRELUDIO (Ejiogbe)
BANGAH (Pico y Palo)
YUMAVISION
UMBO (Come Down)
Side B
HOUSE OF LOVE (Ogbe Yekun)
3 MUJERES (Iború Iboya Ibosheshé)
Side C
PRAYER FOR ODUDUWA (Para Merceditas)
HIGHER LOVE
YARI GEMINI (Beyi La)
Side D
UMBO (Come Down) HUMBUG RIDDIM Remix
UMBO (Come Down) FDZ Remix
HOUSE OF LOVE (Ogbe Yekun) Nühn Remix
Ships Worldwide!